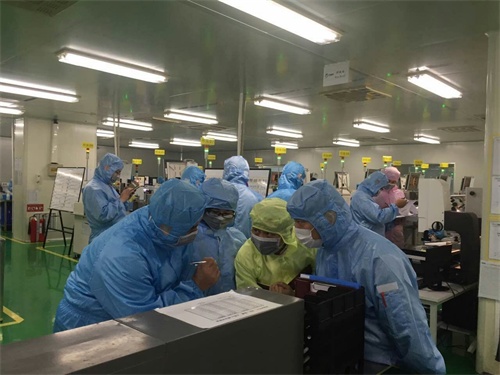 On Nov. 14, 2016, the responsible leaders and engineers of Kitchen Appliance Unit of Midea came to Shanghai Songshan Electronics Co., Ltd. to perform another audit. Generally, such audit of suppliers is carried out by Midea every 3 years.
The first meeting of the audit was held in the meeting room of our company and attended by Mr. Qin Haojun, the General Manager of our company and other related responsible managers. The meeting began with a warm welcome to the leaders and engineers from Midea extended by the GM Qin, who then introduced the general situation of the company and expressed a full cooperation with the auditors for the audit. Mr. Lu Hao, the auditing director of Midea introduced the related work process of the audit, and then the audit activities went into the fields of the company.
Mr. Meng Wei, the Manager of Quality Department led the relevant departments to cooperate with the auditors for auditing the system files and records, Mr. Wang Qiming, the Director of Production Department cooperated for the audit to the workshops of the company. During the period of time, the auditing representatives showed a praise to the company while presenting a suggestion to the work of the company.
At the last meeting of the audit, Mr. Lu Hao, the auditing director of Midea delivered a summary statement, in which he expressed that Midea attached a great importance to the audit of the company and affirmed what we did in complying with the standards and managing the quality of the Fuses, and hoped that the audit can help improve the cooperation between both companies.
Midea, a public company, is the largest manufacturer of Household Appliances in China and also a Top 500 enterprise in the world. The General Manager of Kitchen Appliance Unit of Midea once said: "Songshan, the only supplier of China's aerospace Fuses, is no doubt our most trustworthy supplier of the Fuses used in our products".
The cooperation between Songshan and Midea has been greatly strengthened by the audit. We believe that there will be a more splendid cooperation between both sides in the future.